December 10,  2014 Club Meeting:  Henry Cowen
Henry is a New York native and is very familiar with fishing at the northern tip of Long Island in Montauk New York.  December is one of the club's best meetings of the year, and we are very happy to celebrate it with our long time friend, Henry Cowen. Expect some good ribbing both ways!  Meeting starts at 7 pm, but most arrive around 6 pm.  As always, for 25+ years, the second Weds of the month at Manuel's tavern.
Each fall schools of false albacore, stripers and bluefish migrate past Montauk Point and make for world class fishing. Conditions are challenging. Bad weather, narrow channels, and rips tides make it tough on anglers. But a successful day can be very rewarding. Come out to Manuel's and learn about this great fishing location just outside of new York City.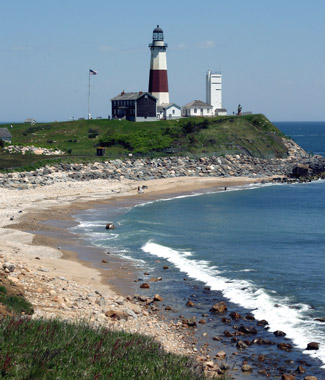 October Club Meeting:  Jon Cave, Fishing in Central Florida
Jon B. Cave is a fly-fishing guide, author, and founder of the longest established fly-fishing school in the South. He is well known in casting circles and his book, Performance Fly Casting, an illustrated guide is an excellent instructional book.
Jon is making a return visit to our club to share his extensive knowledge of fishing in central Florida including, fishing for bass, american shad and other target species. Jon will share his knowledge of fishing locations, tackle, flies and techniques with a focus on dry fly fishing opportunities. Come out to Manuel's and get ready for the winter fishing season.
Casting Clinic: There will also be a casting clinic with Jon from 5pm to 6pm at the casting field.
September Club Meeting:  Scott Brown on Competition Fly Fishing in Georgia
Scott, like many of us who have a day job, is an avid fly fisherman however, he also competes on a regional level in competition fly fishing.  Scott will be discussing technique, equipment and how to get involved in competitive fly fishing in Georgia.
Team Dead Drift is a competitive fly fishing team which participates in regional, national, and international events. The Team is a charter club of the Federation of Fly Fishers promoting fly fishing through education and competition.
Captain Dark Cloud Saved the Day
Last Minute Presenter Made August Meeting a Success
Our own Craig Riendeau stepped up at a moment's notice when the August guest speaker canceled. Craig's presentation was about his Drift South guide service, his creative flies for warm water fishing and his unique presentation he calls "Stepping off the Dark Edge". Craig really has reinvented warm water fishing with his creative (and very successful) techniques.
Thanks for educating and entertaining with your depth of information and much appreciated sense of humor. It was an excellent program!

August Club Meeting: Chris Scalley on Shoal Bass, Striped Bass and Trout on the Hooch and Cumberland
Chris Scalley is well known as the most knowledgeable guide on the Hooch as it runs through Atlanta. Anyone who has floated with him knows first-hand that chasing rainbows and browns on the river with Chris is a first-class fly-fishing experience. But what many people don't know is that Chris's guided trips also include opportunities to catch shoal bass and striped bass on the Chattahoochee and on the Cumberland River. Come out to Manuel's and learn from the master.


From Chris: Greetings from the River Through Atlanta Guide team and we hope everyone is enjoying their Summer! Our 2014 Spring and Summer fishing season has been spectacular with above average size fish to the net which is likely due to the previously wet 2013 season that enabled many fish to holdover through this past winter from lack of fishing pressure. Rainbows in the 12 to 16 inch range are the norm these days with some larger. The Wild Brown trout bite has been good in more remote reaches of the river where there are fewer stocked fish competing for your fly and where there is less angling pressure. Water temps at Buford Dam have remained in the high 40's Fahrenheit which makes for 35 river miles of cool water ideal for trout. Clients may think we are telling just another "fishing story" when we inform them that our River has "climate control" but honestly we figure air temps on the river are 15 to 20 degrees cooler then recorded Atlanta air temps making us the coolest place to fish in Georgia!
Downstream of Morgan Falls Dam we are catching many nice striped and shoal bass on both fly and spin. This venue is a low light proposition either first four hours of daylight(dawn) or the last four hours of daylight(dusk) so getting in one of these excursions may allow you to go to work after or before your guided trip. We are proud to announce this is our 20th year of operation as a guide service on the Chattahoochee River! People thought I was crazy to start a trout fishing business in 1994 and it is only fitting that two state record brown trout have been caught on the River since then. While none of my customers have caught these specimen record fish I think this fact legitimizes the river as a truly world class trout fishery. I think it is fitting that both these gentlemen caught their GA record brown trout on artificial spinning lures (Ford in 2003 and Doughty in 2014) I guess there is still hope that maybe one day the next record breaker will be caught on a fly rod!!!?? Please call or e-mail us to schedule your next guided fishing or waterfowl hunting trip.
It is more than a fly fishing club!
Great presentation this month by Kenny Simmons  about Good Will Guides who presented a video in support of our veterans.  The organization will be hosting their annual fundraiser, the Big Pig Fly Fishing Tournament on November 7th to the 11th at Frog Hollow.  Our very own Mike Williams led the charge with offering to help sponsor a Veteran for the event and was quickly followed by others.  The work that organizations like the Goodwill Guides do makes a difference in all of our lives; we need heroes that are willing to serve our country and we need people like Kenny to help them readjust when they return.  Fly Fishing has been found to be a productive recreational activity for those suffering from Post Traumatic Stress because it requires focus and process, and more importantly, involves camaraderie.
Camp Sunshine also combines camaraderie and Fly Fishing for children suffering from cancer.  Jimmy Jacobs leads our club involvement every year.  Look at the pictures below to see what a difference it makes!
Bob Chambliss, aka Nascar, showing Brandon "the ropes".
Lou Arcangeli on the casting green with Mikala.  For a moment, not a care in the world.
Jimmy Jacobs helping Carter with a bluegill.  Who is grinning more?
Lou Arcangeli leading the knot tying class.  Look Mom what I made!
July 9 Fly Fishing Club Meeting features Kenny Simmons of Goodwill Guides
Cofounders Kenny Simmons and Jim Long started The Goodwill Guide Road To Recovery program to help wounded warriors who want to learn professional angling techniques as a way to help motivate and accelerate them in the world of professional fishing as a part of their life and recovery process.
The Goodwill Guides is a volunteer group that consists of an all-star cast of tournament anglers and pro guides who donate their time and expertise in support of our great cause.
Their recovery program gives warriors a hands on chance to explore the exciting world of competitive angling and professional guide fishing. Our program unique approach provides individualized training from basics to advanced fishing instruction, for skill sets ranging from beginners to experienced, this approach ensures optimum support for each vet's unique needs and desire.
The Goodwill Guides program teaches an array of skill-sets depending on each Vets interests and capabilities. Our primary focus is mainly on Professional Guide fishing and Competitive Bass and Trout tournament techniques, which incorporates a combination of classroom and practice. As our Vets become more advanced in their knowledge and skills, we then provide them with help and opportunities to compete locally and on a national level.
June 11 Fly Fishing Club Meeting features Jake Darling of Unicoi Outfitters
Our fly casting instructor, Ed Chamberlain is assisting the TU youth fly fishing camp this week and therefore we will not have our usual casting instructions.
Jake Darling of Unicoi outfitters will explain all about Dynamic Indicator Fishing.
What is it?
When do you use it?
Why do you use it?
(and I suspect the others… who uses it and how they use it…)
Should be a great meeting, please join us!
 Unicoi Outfitters , who has been a long time supporter and friend of the Atlanta Fly Fishing Club, prides itself on educating new fly anglers.  They offer a variety of learning opportunities, and our staff includes several FFF certified casting instructors, graduates of the Orvis guide school, and graduates of the Joan Wulff school for fly fishing instructors. We are extremely committed to helping you learn as much about the sport as you'd like.   Our speaker this month is one of the most outstanding guides in the state and promises to give you a new technique to add to your arsenal for fly fishing!
tom
Annual Camp Sunshine event – Volunteers needed
Time to sign up to help with this year's edition of the Fly Fishing Dimension at Camp Sunshine. We will again be working with eight youngsters who suffer from various childhood cancers, teaching them the basics of fly fishing and helping them out with practicing the sport on the camp pond.
The action takes place at Camp Twin Lakes in Morgan County on the evenings of June 23, 24, and 25 from 7 pm to 8:30 pm. On Monday the 23rd we need a couple of fly tiers to work with the kids and volunteers who can tie an improved clinch knot and loop knot, plus some folks to help with casting.  The other two evenings we will have the kids on the water fishing. Only expertise needed for that is the ability to untangle lines.
If  you are interested in helping, complete the below form and  specify which days you would like to help out. We'll try to accommodate everyone interested. I'll then get back to you with the background check you have to fill out (don't expect an immediate reply, since I'm spending the bulk of this week on Captiva Island, FL fly-casting from a kayak!).
Looking forward to hearing from you folks.
Thanks,
[contact-form to='[email protected]' subject='Camp Sunshine Volunteer'][contact-field label='Name' type='name' required='1'/][contact-field label='Email' type='email' required='1'/][contact-field label='Message' type='textarea'/][/contact-form]
Fly Casting Instructions – May 14 Meeting begin at 5:00 hosted by Ed Chamberlain
Ed, one of the club's certified FFF fly casting instructors will be hosting sessions at Manuel's parking lot at 5:00 preceding the club meeting.
Tune up your cast!  Just beginning or experts …. you can benefit from his instruction.
May 14 Club Meeting – Allen McGee, Riverfly Angler
Allen McGee is a well known author and expert at tying and fishing. His book "Tying and Fishing Soft-Hackled Nymphs" has helped thousands of fly-fishing enthusiast learn the craft of fly-tying. He has created a collection of original fly patterns that are made to catch fish. There will be a fly-tying tutorial at 5:00 for those who have signed up. His presentation is always educational and fun.  His book is reviewed by the Ohio FFF with great endorsements!
Allen is also a well known photographer as you can see in his blog posts.
April 9, 2014 Club Speaker – Gordon Tharrett – Green River, UT
Gordon has worked a number of rivers over the years, but Utah's Green River has been his home waters since 1993.  He is also one of the most highly rated guides on the river with repeat visitors extending over 15 years.  He operates and guides out of Green River Outfitters which serves the Flaming Gorge section of the Green.  Traveling to Flaming Gorge is one of the most scenic sections of the country if one lands in Salt Lake.  The Gorge is also unique with some of the most crystal clean water that lets you sharply see fish 15′ below the raft.  The fishing is EPIC!!!

This photo of Trout Creek Flies/Green River is courtesy of TripAdvisor
This photo of Flaming Gorge courtesy of pinterest
March 12, 2014 Club Speaker – David Edens; Fishing the Georgia coast for Tripletail
Capt. David Edens is the Coast Guard licensed captain of Fly Cast Charters and is an Endorsed Orvis Fly-Fishing Guide. He has received 5 out of 5 ratings on the Orvis sight. A typical day of fishing with Captain Dave will be spent sight casting to feeding or cruising red fish. If the tides are high enough, we will look for Tailers on the many grass flats in the area. As the tide changes, we will target either Redfish or Trout with a fly rod or light tackle.
Tripletail reach a maximum size of 40 pounds although the average size is much smaller. Tripletail, as the name implies, have a body that appears to have three tails. This is actually just the anal and dorsal fins. Tripletail are common in the Gulf of Mexico but are a species that gets little fishing pressure. Most tripletail are caught as an incidental catch by anglers targeting lemon fish or sometime snapper fisherman if they happen to be in the right place at the right time and stay alert.
David Edens fishing for red fish in St. Simons Island
Also, the warm water crew will be announcing a kayak fly fishing trip to St. Joe's for May 1-5th. As for what you're fishing for, it's mostly sea trout, ladyfish and red fish. There will also be some pompano, whiting, the occasional sighting of a cobia, flounder, sea bass and a host of "others" depending on where in the bay or gulf you choose to fish. Seven to nine weight rods are a good choice with a floating line handling most situations. A intermediate and a type IV full sink could come in handy if you get into some deeper water.
Most of the fishing will be in five feet or less or water. The bay side is glass clear where the gulf side is clear to murky depending on the surf. A boat of some sort (canoe, kayak john boat or power boat) will make fishing easier. There are areas that you can wade or even walk the beach but a boat widens the possibilities. I did very well out of a fifteen foot canoe last time. I fished a ten foot leader tapered to 1X and did not have a bite tippet. But I only caught reds, trout and ladies. I would suggest a spool of 30 – 60 lb hard mason for bite tippets if you want to cast at the cobia. Wire is needed if you run into mackerel. If you have any questions just e-mail me.
Craig & Jim Corbett
February 12, 2014 Club Speaker – Rus Schwausch of EPIC Angling & Adventure
MEETING CANCELLED due to weather.
Due to the expected icing, we are canceling our monthly talk at Manuel's for the safety of our members and that of our speaker who would be driving down from Knoxville. This marks only the second time since 1990 that we cancelled a meeting so we are glad 19 of us had a chance to get together at JD's glacier fishing trip this past weekend on the Nantahala.
See you in March!
EPIC Angling & Adventure offers fly-fishing adventures in one of the most isolated coastal fishing areas in Alaska. It is also one of the best places in the world to pursue chrome-bright, ocean-fresh silver salmon. The SAFARI camp is a true outdoorsman experience and a separation from all the things that business and technology do to clutter our daily life. Come out to Manuel's and share the adventure. The area is noted as "one of the fifty places to fly fish before you die".
See more about Rus' operation in this video: Epic Angling and Adventure
January 2014 Club Speaker – Captain Charlie Beadon, Coastal Fly Fishing

Our January 8, 2014 Atlanta Fly Fishing meeting we will feature Captain Charlie Beadon and be will be on coastal fly fishing opportunities near Hilton Head, South Carolina. Topics for the meeting include areas and species to fish, equipment and casting requirements.
Captain Charlie Beadon is originally from Daytona Beach, FL but now operates as a saltwater fly fishing guide out of Hilton Head, SC and Key Largo Florida. He is a FFF fly casting instructor with a passion for sight fishing in shallow water and teaching others about fly fishing.
Charlie Beadon can be booked at
Video Fly Fishing near Hilton Head
December 2013 Club Speaker – Ben Moore – Trophy Trout on the Saluda River

December's Atlanta Fly Fishing meeting features guide Ben Moore who will be speaking about fly fishing in Columbia South Carolina on Wednesday December 11, 2013 at 7 p.m. Most club members start arriving at 5:30.
The Saluda River is one of those "undiscovered" gems of the south. To see why, take a look at Gregg's fly fishing trip on the river earlier this year where he landed a 22″ brown (see post).
Ben guides fly fishing float trips and wading trips on the Saluda River in Columbia South Carolina, the Chattooga River, and the Savannah River. He has spent his entire life on these waters and has mastered the secrets to catching trophy fish in local streams. The cold, fast-flowing oxygenated water offers a perfect environment for growth and survival, he said. "I'm catching fish all the way up to the 24-inch range." Ben guides for East Anglers out of Augusta, Georgia
Come out to Manuel's and hear Ben as he shares some of his secrets for catching these trophy sized trout.
November and December Club Photos 2013
[wppa type="album" album="19″ size="650″][/wppa]
[wppa type="album" album="18″ size="650″][/wppa]
November 2013 Club Speaker – Alex Bell – AB's Fly Fishing Guide Service
November's Atlanta Fly Fishing meeting features guide Alex Bell. November 13, 2013 at 7 p.m.
The Western North Carolina Fly Fishing Trail features some of the best trout waters in the Great Smoky Mountains. The trail covers 15 excellent spots for catching brook, brown and rainbow trout. Alex Bell is a fishing guide, educator and adaptive Fly Fishing Practitioner who helped create the concept of the trail in conjunction with the Jackson County Chamber of Commerce. Come out to Manuel's to learn how you can take advantage of this fly fishing opportunity.
AFFC Casting Instructions

Ed Chamberlain, a certified fly casting instructor, will be teaching casting prior to all club meetings. Last month Ed invited members to arrive early for the meeting and work on casting skills between 5-6 p.m. Interested members should meet him in Manuel's parking lot near the Bank of America ATM machine at 5, bring your favorite rod, and we'll walk down to the grassy area along Freedom Parkway.
If you are new to the area or just picking up the sport of fly fishing, join us at Manuels Tavern on the second Wednesday of each month (7 pm start), and become a new member. You are going to feel welcome as soon as you walk into the meeting as Dwight will greet you and introduce you to other members. Missing some gear? The club also has a for sale table at each meeting and you can enter to win one of the many raffle items that often include a new Orvis fly rod.
October fly fishing meeting features bamboo fly rod maker Bill Oyster

Fly fisherman from around the world know Bill Oyster from the quality of his rods. The craftsmanship is suburb. He and his wife ran the rod building shop in Blue Ridge for many years. In the past couple of years, he purchased the former Unicoi Outfitters Blue Ridge location a few doors north of him. The rod shop has some other high quality clothing and items in addition to his rods. The fly shop offers flies, equipment, clothing, local fishing conditions, and a connection to a number of local guides.
In addition to his building of custom bamboo rods, he offers bamboo rod building classes which many of our club members have taken.
There is a great writeup about Bill in Garden & Gun
It was clear that, like every other rod maker I'd met, Bill Oyster was a perfectionist; there's no other way to do this. Making a fine bamboo fly rod takes forty, sixty, eighty hours of highly skilled work, and Bill spends an additional week peering into a microscope to add the complex engraving on all his nickel silver fittings. "It's hard to think artistically when you're just trying to eat, keep the power on," he said. "So yeah, maybe I'm obsessive-compulsive. Not with other things — I mean, it's not as if I get up, make the bed, tuck my shirt in. But with this, every rod I make I want to make it better. I throw away ninety percent of the bamboo I buy, burn it in the backyard. If there's a blemish in it, it drives me nuts."